TOKYO MACHINE is the artist behind several of the tracks featured in the high intensity workout ARCADIA.  He is the producer behind PLAY (Stealth Level), JOURNEY (Stealth Level), COOKIES (Jump Level) and BLAST (Stealth Level) and EPIC (Jump Level) in ARCADIA.
TOKYO MACHINE debuted on Monstercat with his track "PARTY", which was released in July 2016, followed quickly by breakbeat slammer "FIGHT". The artist, who is never without his signature mask and shades, fuses 8-bit sounds with fierce, heavy basslines and energetic electronic beats.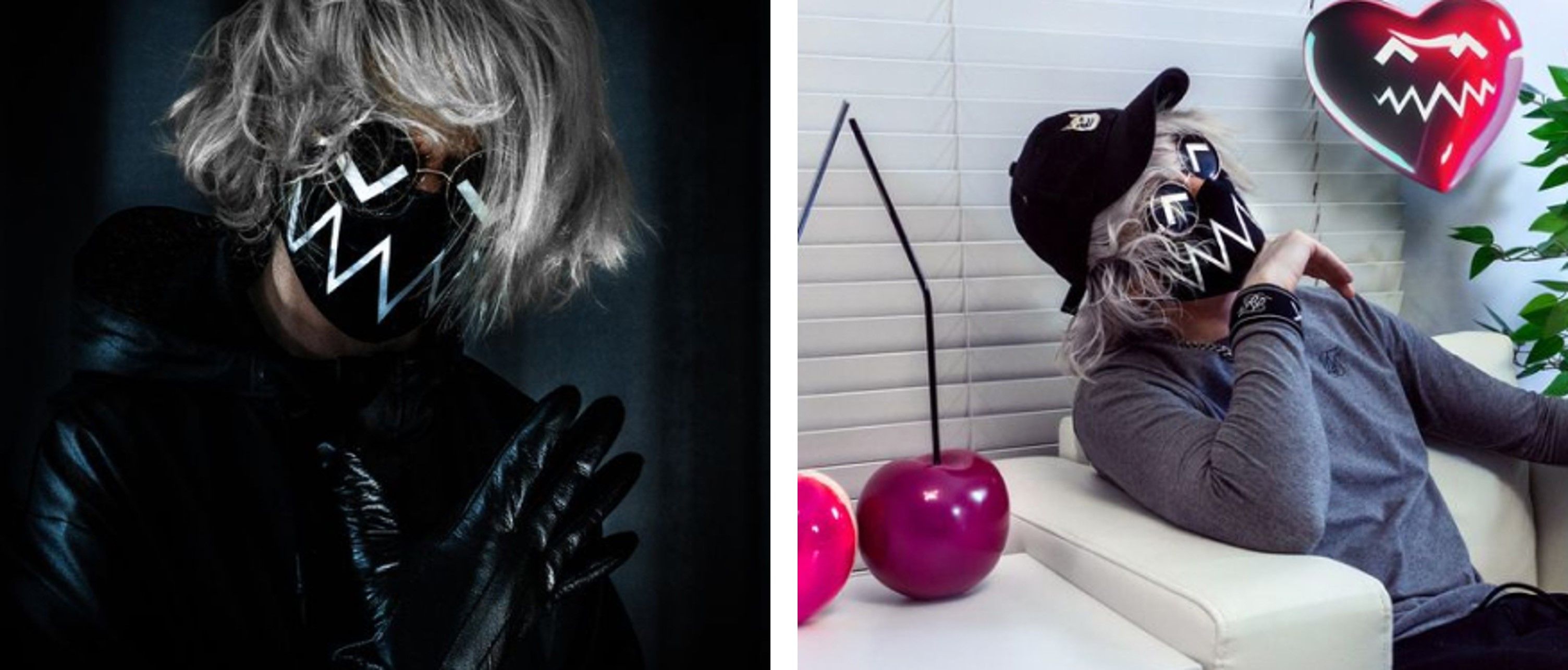 Heavily involved with video games as a player and streamer on Twitch, he has produced music for many games including a collaboration with Monstercat for Rocket League.   

Tokyo Machine is rarely without his two animal companions Tokimon and Robo.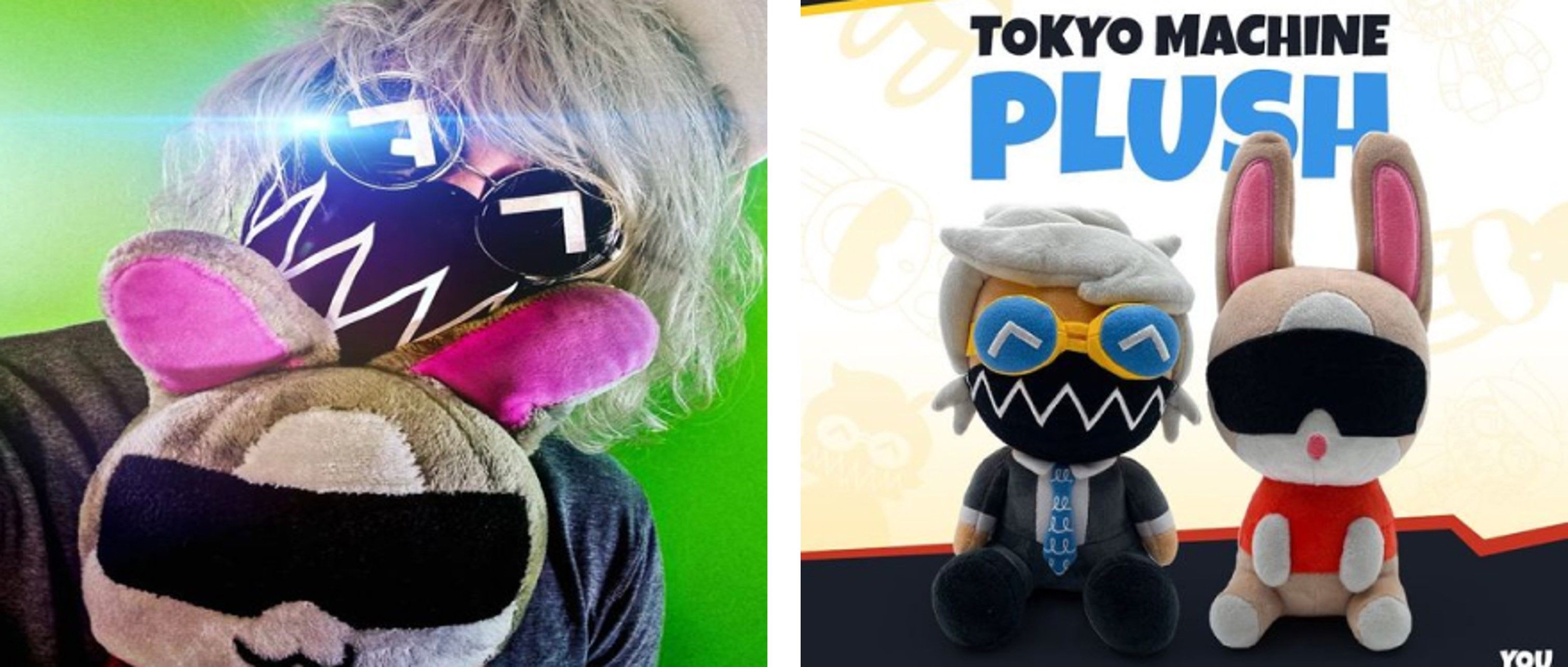 Tokyo Machine's iconic right-hand bunny, Robo, has been adventuring around the world with Toki since 2016. Workout buddies? Both are available in cuddly form as Plushies from Youtooz.

His music has won millions of plays and support from the likes of Tiësto, Martin Garrix, David Guetta, Dillon Francis, Afrojack, Slushii, Herobust and more.

TOKYO MACHINE Exclusive Interview 

You have performed over 70 shows, but Slaughterhouse was your first European gig since covid. How did it go down? Was there a different 'feeling' to it, after two years of lockdowns?

Definitely surprised, the energy was nuts, especially easy to notice in a smaller packed venue like that. Hearing the crowd sing along to my earliest songs warms my heart and I almost forgot what that feels like after these two blurry years. And let me tell you, European Toki-Crew knows how to party!   
 
First time I noticed it playing Bootshaus in Cologne, but they really do love to mosh, even to some of my more melodic stuff. Music to my eyes!   


Fans can post Tokyo Machine fan art on the official Tokyo Machine fan art Instagram account. 
 
Tokyo Machine at Dreamworld 2020  

EPIC, COOKIES, JOURNEY, PLAY and BLAST - We licensed them all! I know you have a special pride for EPIC. What is it about EPIC that stands out for you?   

I've always wanted to do a triumphant pirate-themed or adventure-themed song. I was playing a little Sea Of Thieves at the time and I think it finally pushed me to do it. It was certainly slightly outside of my usual chiptune/16-bit scope, especially considering all the organic instruments I wanted to throw in - including my whistling! But putting the whole thing together felt really good, like a breeze of fresh air, no pun intended. On top of that, like you said - the opportunities it brought me have been wonderful, so it's hard for me not to count it as a success!   

Many of your tracks lend themselves so well to fitness experiences. A track like Last Summer (Lyrics) ft. Lights by Tokyo Machine & Weird Genius would be incredible for a cooldown track, after the more frenetic energy of a track like BLAST. Have you considered your music would be used to get people moving (fitness wise) before VR apps came along? Did you see PLAY be used as one of the agility tracks in Body Attack?   

Haha that's nuts! I assumed people would be listening to my stuff at the gym, but never expected it to be on such a scale! PLAY was always meant to be a shout-along rager so I'm not surprised it helps people get their blood pumping. When I noticed that on the gym playlists my songs were being added on a weekly basis, I realized the potential.   

"THOSE RED AND BLUE BLOCKS AIN'T GONNA SLASH THEMSELVES, YA KNOW."   
 
VR did change the game for me though. Ever since Beat Saber incorporated my tracks, I noticed the power of very rhythmic staccato stuff. Those red and blue blocks ain't gonna slash themselves, ya know. As for cooling down after a workout - believe it or not I'm actually working on chillout lo-fi versions of my first 10 tracks released with Monstercat, so that one day after you build some muscle to the drop of PARTY, you can then drink your protein shake listening to PARTY (TOKYO MACHINE Lo-Fi Remix).   
 
Your videos are heavily influenced by retro gaming - where did that love come from? I am thinking like the Toki 5000 and Capslock Quest arcade machine?   

The first console I ever owned was the NES. I can't count how many hours I spent on the Gradius, Contra and the whole Mario franchise... okay, and Bubble Bobble. To me the gameplay was 50% of the fun, the other 50% were the soundtracks. That stuff stays with you, man. I've always been fighting to bring back that nostalgia factor somehow and seeing a gap in the EDM scene I decided to take a stab at it!   
 
As I said earlier - the music is always meant to be just 50% of the experience. So naturally everything else is the universe I'm building, including visuals, worlds, characters, cabinets, posters, merch and everything in between. A recent cherry on top was Konami contracting me to do the official remix for Gradius' 35th Anniversary. This timeline is so unpredictable, haha!   
 
About the visuals - how involved are you with the characters and the LED side of your live shows?   

As much as I am the animator for all of my art and videos (aside from the Last Summer music video), a huge credit goes to Amanda (@gameshrimp) for designing all of the characters and settings I get to work with, pretty much perfectly according to my specs and ideas. I've been impressed by her art ever since her earlier work with Pegboard Nerds and Savant and was extremely happy to find out she was really excited to work on Toki together. I am planning something big for the upcoming years, though - A way more visual, story-based, narrative experience than until now. Just waiting for the right time!